Closing Ceremony of 2018 Program
Release Time:
2018-07-29
Browse:
371
On July 27, 2018 Summer Program of the Academy came to its official end. The Closing Ceremony was held in the Science and Art Center in the afternoon. Prof. Cheng Chia-Jui, secretary-general to the Academy's Curatorium, moderated the event.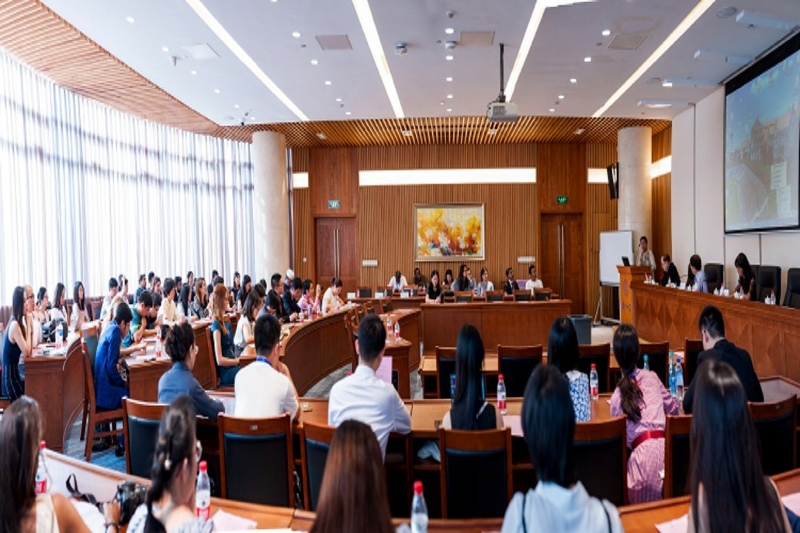 During the ceremony, prof. S.K.Verma, executive president of India Society of International Law, gave a meaningful speech about the particularity of international law. Prof. Zeng Huaqun, Co-President of the Academy, retrospected the programme and made a summary. Both of them expressed the satisfaction with this year's programme and determined to further promote the development of international law.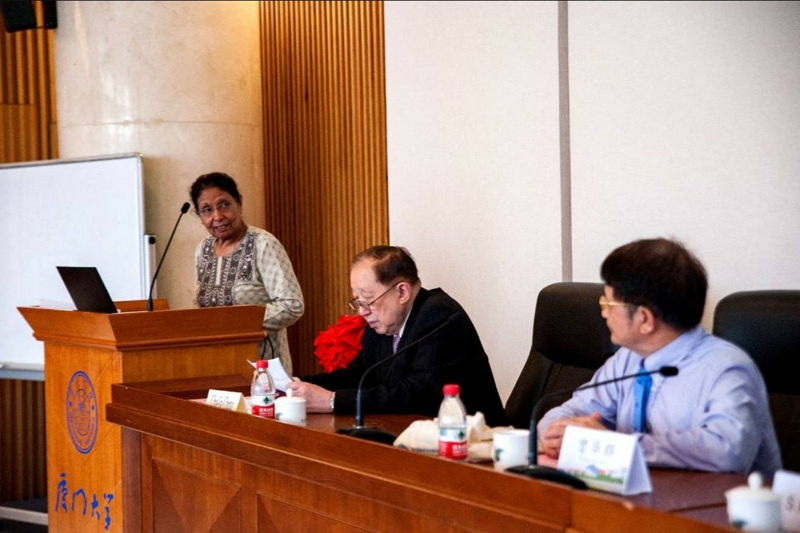 After three full weeks of intensive learning, participants got their opportunity to conclude and express their feeling at the ceremony. This year we also have two representatives from the participants, Wang wei representing Chinese participants, while Urmi Acharjee representing overseas participants. Wang wei said that through this summer programme, she met many people and made lots of new friends. Urmi Acharjee emphasized the responsibilities of international law students, she expressed that students of international law should pay more attention to the international community and try their best to do some contribution.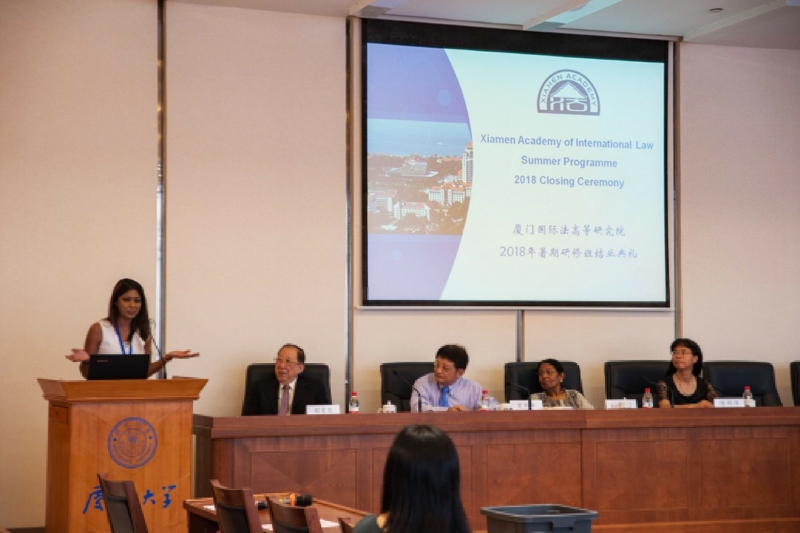 Volunteers are key assets to the Academy. Through weeks of hard working, they make the program possible and run smoothly. Representing this admirable group, Du Tongxin said that it was not her first time to be a volunteer, but it surely would be the most impressive and unforgettable one.
Certificates for participants and volunteers were awarded after the speeches. All the attendance and volunteers got their certificates; while those outstanding participants and volunteers received the honor from Prof. Cheng Chia-Jui and Chen Huiping respectively.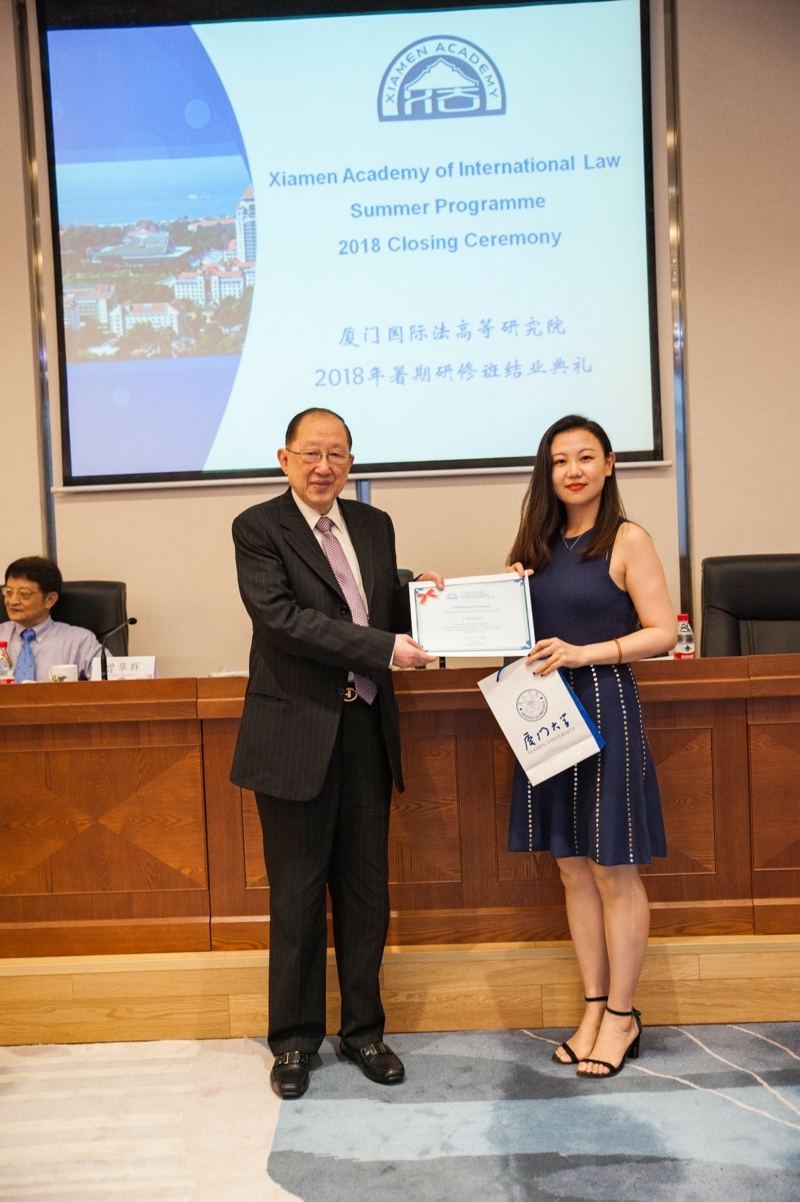 Prof. Chen Huiping, Secretary-General of the Academy's Administrative Council, made a summary of the 2018 Summer Program. Then Prof. Chia-Jui gave out a brief report on behalf of the Curatorium. Both of them attached great importance to the summer program. Through this program, a better platform for learning international law was provided and students can get more resources from it.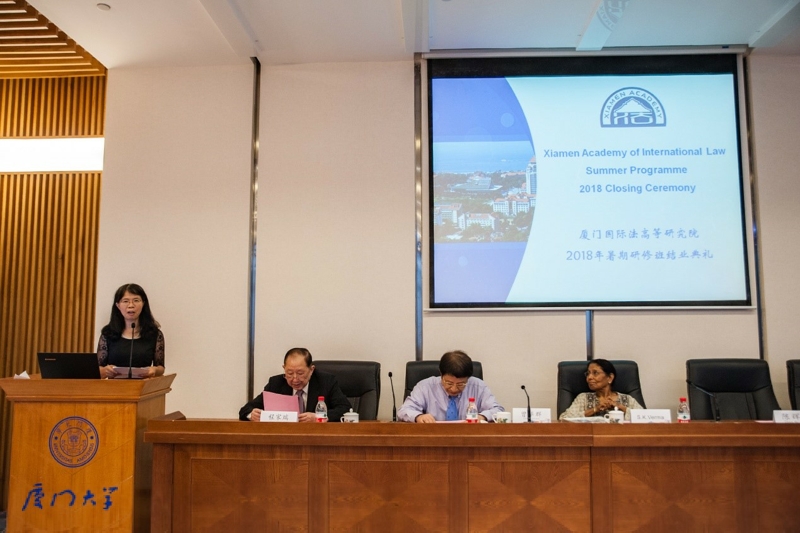 What's special to this year's ceremony is the execution of an MOU on creating a better legal environment between the Academy and Xiamen Arbitration Commission, as well as a book donation ceremony, in which Prof. Paola Reyes from National University of San Marcos made the donation. Both events symbolize that the influence of the Academy has been deepening and widening.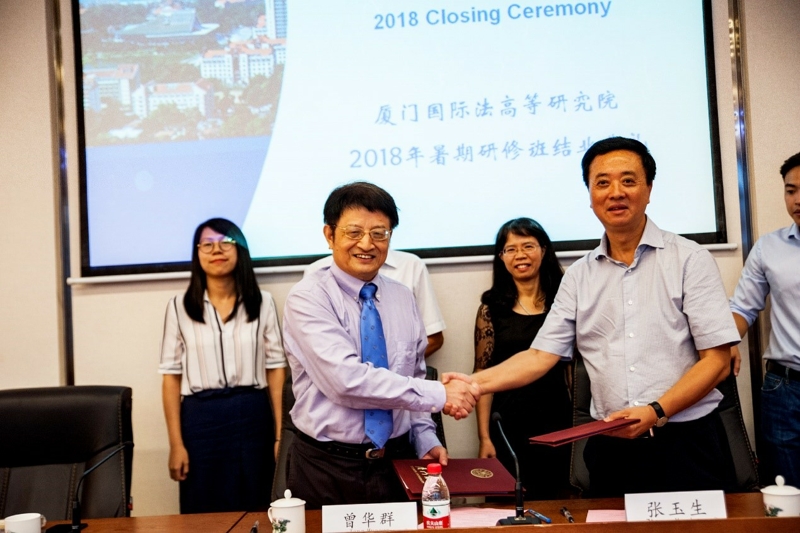 Following the ceremony, there was a banquet for all professors, participants and guests at the Xiamen University International Academic Exchange Center in the Yifu Building. With a mixed feeling of happiness and sadness that one would experience in a typical farewell dinner party, this year's program has been internalized to the heart of all those involved.
Let's hope to meet again in next year's program!
Report by Huang Shibei, Photo by Zhong-Ding-Wen Studio